It's no secret that we're hot on IoT education here at Riak. We're in the middle of our global IoT Roadshow, and earlier this year open sourced our Riak TS database, specifically designed to tackle the needs of IoT applications. However even we didn't think we'd be experiencing the heat of an IoT jungle. But that's exactly what happened in London last week, as we held a roundtable discussion with some of the sharpest minds in the IoT industry at the Soho Blanchette's 'Jungle Room'.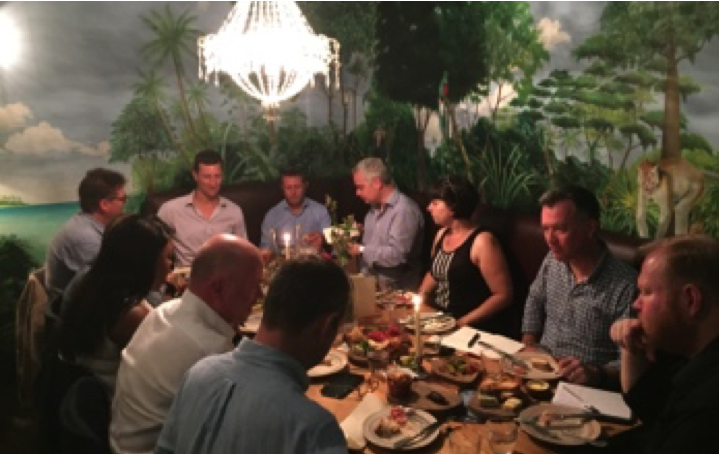 The session was chaired by Alexandra Deschamps-Sonsino, the founder of the connected Good Night Lamp, and director of IoT consultancy designswarm. Also in attendance was Riak's MD EMEA, Manu Marchal, Actual Experience's CEO, Dave Page, and Intellicore's iCTO Declan Caulfield. Alongside a host of industry analysts and journalists, this panel discussed the current state of play in IoT, the challenges facing the space as well as the viable use cases we're seeing.
In terms of the challenges currently facing IoT, Manu Marchal argued that scale is a big issue for today, and an even bigger issue for the future. Gartner predicts there will be 21 billion IoT devices in operation by 2020. Imagine each one of these devices receiving and transmitting data in real time, the scale is unimaginable. Unless technologies are designed to handle time series data in real time and at large scale, failure is inevitable.
Declan Caulfield of Intellicore argued that on the devices/sensors side of things, there are a number of challenges which need to be overcome in order for IoT to thrive. Power consumption is going to be a key factor to take into account. There has been a lot of innovation in the battery industry to facilitate IoT but there is more work to be done. Sensors also need to be produced in a recyclable fashion to prevent environmental damage, and miniaturisation of technology will need to be another focus as we strive to make sensors and devices smaller than ever before.
Open source technology emerged as one of the IoT champions, with its ability to facilitate some of the most innovative development work in recent years. The interoperable nature of the technology is a particular attribute which makes it perfectly suited for IoT, with billions of different devices, compatibility is going to key. In terms of businesses undergoing digital transformation, Dave Page confirmed that Actual Experience is seeing this everywhere it turns.
The room of experts were unanimous that the real value of IoT comes from the data, not the devices. We're generating and analysing more data than ever, and this trend is only increasing. John Leonard of Computing raised the issue of data ownership. For example, if you live in a smart city collecting huge volumes of data on its citizens, which is likely to be managed by a large traditional IT organisation, what can they do with that data? Will it be anonymised, will encryption be involved, and will the government have the right to access it? We don't have the answer to these questions yet, but Manu Marchal closed the discussion by stating that he believes he'll be living his life very differently over the next five years thanks to IoT.  He's personally looking forward to self-driving cars arriving sooner than later.
To discover your IoT IQ take our time series quiz today or to find out more about time series databases read our quick and informative cheat sheet.