At Riak we attend many conferences each year and it's always a struggle to determine which shows make the cut.  Our presence at QCon San Francisco is never in doubt as the quality of the attendees and the content is typically very high.  I just returned from my third Qcon San Francisco and the 2016 show did not disappoint.  Actually, IMHO, it was the highest quality ever. Over 1,300 professional software developers, considerably up from 2015 attendance, flocked to the Hyatt Regency in San Francisco's Financial District for five days of presentations, workshops and networking. Over 40% of the attendees were attending QCon San Francisco for the first time.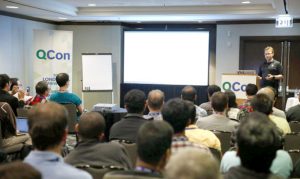 Pavel Hardak, our Director of Product Management, gave a well-attended presentation titled Building Scalable IoT Apps which covered:
How to build efficient and highly scalable distributed applications using open-source technologies.
What are characteristics of data generated by IoT devices and how does it differ from traditional enterprise or Big Data problems.
Which architectural patterns are beneficial for IoT use cases and why some trusted methods eventually turn out to be "anti-patterns".
Insights on best-of-breed open-source technologies, like Apache Spark, Mesos and Riak, to build scalable IoT pipelines to ingest, store and analyze huge amounts of data.
Pavel has augmented his slides and made them available on SlideShare.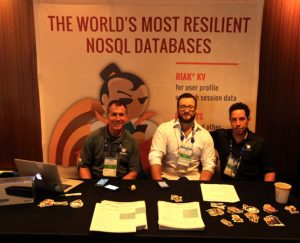 QCon organizers do a great job of encouraging attendees to engage with sponsors. The attendees are knowledgeable, eager to learn and often directly involved in big data/IoT infrastructure projects.  Also, their sponsor companies have invested considerable resources in sending individuals to QCon, so the attendees want to get the most out of it. Competition amongst sponsors for the biggest booth doesn't exist as everyone has the same size area.  Being a past sponsor, we were lucky enough to select early and get one of the highest profile locations at the show. The social activities were outstanding and the healthy food options were incredible.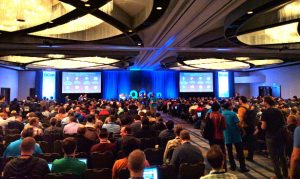 Some of the noteworthy presentations included keynotes from Amber Case, a Fellow at Harvard, on The History and Future of Wearable Computing and Virtual Experience and Neha Narkhede, Co-Creator Apache Kafka/Co-founder and CTO @Confluent, on ETL is dead; long-live streams. QCon San Francisco even incorporated a track on a subject near and dear to Riak – Distributed Systems War Stories, which featured ex-Riak Engineer, Jordan West.  There were many presentations from Riak customers and friends including Matt Ranney, from Uber, who spoke about What Comes After Microservices, and David Greenberg who was the Host of the Containers Everywhere track.
Other presentations worth checking out: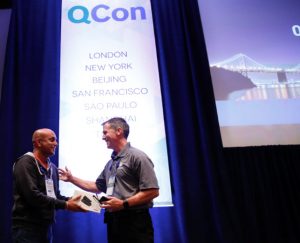 Congratulations to Ram Namachivayam from Lifelock who won the Riak Bose Bluetooth Speaker booth prize.
We plan to be back at QCon San Francisco in 2017.  Thanks to the organizers, C4 Media, and the attendees who spent time with us.  We hope you liked our stickers and Riak Man Bun Memory Sticks.
Stephen Condon
Riak Marketing
@streamingguy