How ready are we to cope with the data that's going to be generated by thousands, millions, possibly billions of devices to be connected to the Internet?  As IoT bridges the physical and online worlds, is our IoT IQ adequate and can our technology infrastructure cope?
At Riak we've been busy doing our small part to help those interested prepare for these challenges. We launched Riak TS 1.3, the first truly scalable time series database, and made it available as open source software and we published a fun quiz so that people can gauge their IoT IQ. This blog highlights some early findings from our quiz results and also gives some details on our next big initiative – the Scaling IoT Apps Roadshow that launches in September. See our announcement earlier this morning.
Our IoT Quiz was intended to be fun and engaging whilst not being too time-consuming.  We are pleased to say that hundreds of people have completed the quiz and the level of IoT education, according to our unscientific classification, is remarkably good amongst our followers. IoT Quiz takers get ranked by their level of correct answers — progressing from "student" to "leader" to "guru" as their knowledge progresses. Over 60% were classified as being a "Leader" suggesting that while there's a broad spectrum of IoT know-how, the majority of industry participants have considerable room to grow, and would benefit from more education
Another telling finding is that, so far, the question most people get wrong is "Which IoT business model is not currently publicly available?"  Hint, it has nothing to do with toothbrushes.
If teams involved in IoT initiatives aren't familiar with the broad set of IoT business models, they're likely limiting their success or worse — building IoT applications that don't adequately support business goals. The question most people answer correctly is "Which of the below is not true for a time series database?"  So far about 73% of people are answering this question correctly, which is promising because time series data is at the heart of IoT use cases and new variations of time series data are emerging constantly.
The quiz is still live, so we can't give you details on the answers yet. Here's a link to the quiz if you haven't had a chance to test your skills.   It will only take you a couple of minutes and we are giving away t-shirts and stickers to select people who tweet their result and include @basho.
Continuing our IoT education crusade, we are pleased to announce our Scaling IoT Apps Roadshow.  We'll be holding training programs across the country to help developers better understand how to derive value from IoT data and how to fully utilize powerful tools like Riak TS and Apache Spark to build applications that can scale to meet the incredible demands of IoT applications.  During these two-hour sessions you'll learn:
Best practices in IoT Data Modeling. Why new data sources require a different approach. Discover some shortcuts to success.
From a Case Study: FIA Formula E Championship races, Intellicore collects raw data from the pioneering electric racing cars, providing spectators with live statistics and analysis as the race takes place.
How Apache Spark can integrate with NoSQL to provide a powerful solution for IoT analytics.
How Riak TS, a NoSQL database optimized for IoT and time series data, can help meet your meet your IoT app data management needs.
The tour will be stopping in Irvine, Los Angeles and San Francisco in California, Seattle, and on then moving toward the  East Coast through Chicago, to Boston, New York and Atlanta.  In Europe we will be visiting London, Paris and Stockholm.  Visit our Scaling IoT Apps Roadshow page to see the full schedule of locations and times as well as registration links. Participate in the roadshow via Twitter by following the hashtag #IoT_Roadshow. Our friends at Databricks will be joining us at many locations. We hope you can make one of these informative sessions, which will also include a social hour with drinks and snacks prior to the training session.
If you can't make these sessions there's plenty of educational content on Riak.com. You can also see us at Strata Hadoop New York in late September and at Spark Summit EMEA in Brussels October 25-27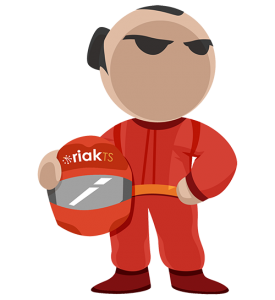 The Riak team is rapidly iterating on Riak TS 1.4 which will incorporate, among other things, some SQL richness (group by/order by) and cluster wide expiry.  If you'd like to learn more about Riak TS and our Apache Spark Connector, my colleague Susan Lee has recorded a video demonstration which is available in our video playlist. If you'd like to view a tutorial on using Riak TS with Apache Spark our friends at Databricks are hosting a Notebook on their site.
We look forward to seeing you at one of our events this September.

Stephen Condon
Riak Marketing
@streamingguy