Riak's Riak TS deployed by Intellicore at FIA Formula E Championship race in London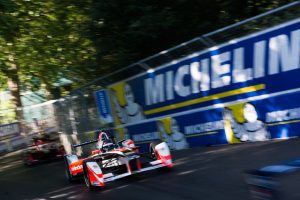 London – 4th July 2016, Riak Technologies, the producer of Riak® KV and Riak® TS, the world's most resilient NoSQL databases, announces Intellicore's adoption of Riak TS to power its Sports Data Management Platform, used by electric racing organization Formula E to provide real time race analysis to its customers.
Intellicore's Sports Data Management Platform provides a second screen experience for sports organisations such as Formula E, the National Rugby League (NRL) and Wembley Stadium. The platform is designed to faultlessly deliver live analysis for viewers of sporting events at massive scale. During a Formula E race, Intellicore collects raw data from the pioneering electric racing cars, providing spectators with live statistics and analysis as the race takes place.
During a typical 50-minute Formula E race, the cars of the nine teams generate approximately 1Gb of telemetry data per driver. Data is received from the track at a rate of 400 packets per second, each packet containing up to hundreds of telemetry events, Over 1.2m packets are received during a race. The Intellicore platform needs to aggregate, normalise and redistribute that data in real time to Formula E worldwide audience via the official mobile and tablet Formula E app and other downstream consumer apps. The platform relies on Riak TS and is set up to handle up 40,000 transactions per second, to store, process and serve Intellicore data needs .
Intellicore was aiming to deliver the required performance using existing relational database technologies, however this proved challenging as they were not designed for handling time stamped telemetry data from the cars, otherwise known as time series data. Riak's recently launched time series NoSQL database, Riak TS, was able to address this challenge because it is optimised for storing time series data reliably and at huge scale. Riak TS aggregates all data points and ensures an accurate high speed live transmission of second screen information.
"We were hit by the challenges of volume, latency and cost when it came to our data." said Christian Trotobas, CEO, Intellicore. "We needed a solution that was able to scale rapidly, and one which wouldn't fail whilst dealing with mission critical workloads. Coupled with this we were looking for something with operational simplicity. With Riak TS we got all of this, and where usually you need someone in the team that is dedicated to maintaining and optimising the servers, our development team is able to cover this independently which has really streamlined our progress, and saved resources to put towards innovation."
Formula E spectators will have access to a specially designed app that uses Intellicore's solution to aggregate and visualise data such as a car's top speed, its position on a live map, the video feed of drivers' cockpit and the percentage of lap completion. Like Formula E, once the data is normalised, Intellicore clients can leverage data to empower apps and second screen experiences, empower game side decisions as well as having the ability to also sell the feed as a service to broadcasters in order for them to display it to a live audience.
About Riak Technologies
Riak, the creator of the world's most resilient databases, is dedicated to developing disruptive technology that simplifies enterprises' most critical distributed systems data management challenges. Riak has attracted one of the most talented groups of engineers and technical experts ever assembled devoted exclusively to solving some of the most complex issues presented by Big Data and IoT. Riak's distributed database, Riak® KV, the industry leading distributed NoSQL database, is used by fast growing Web businesses and by one-third of the Fortune 50 to power their critical Web, mobile and social applications. Built on the same foundation, Riak introduced Riak TS, which is the first enterprise-ready NoSQL database specifically optimized to store, query and analyze time series data.  Riak is the registered trademark of Riak Technologies, Inc.
About Intellicore
Intellicore delivers innovative solutions for digital exploitation of sports data and is a trailblazer when it comes to real time meaningful data analysis for any sport. The company specializes in facilitating the ingestion, normalization and distribution of sports data content and turnkey solutions for broadcasters, rights owners and professional service providers.
Intellicore has been recognised by numerous industry leaders as best in class for the smooth delivery of cleaned sport data from any provider in real time and has been honored with several awards for its innovative and fan engaging solutions.
About FIA Formula E Championship
Formula E is a ground-breaking FIA championship and the world's first fully-electric racing series. It represents a vision for the future of the motor industry, serving as a framework for research and development around the electric vehicle, accelerating general interest in these cars and promoting sustainability. The first season began in Beijing in September 2014 and completed in London in June 2015, racing in 10 major cities (11 races) around the world. The championship sees 9 teams, each with two drivers, going head-to-head to create a unique and exciting racing series designed to appeal to a new generation of motorsport fans. Season two got underway in October in Beijing with the series becoming an 'open championship' allowing approved manufacturers to develop new powertrain solutions. Future seasons will see the regulations open up further allowing manufacturers to focus on improving battery technology.